A hurricane can result in serious and costly damages to your home, including your swimming pool. The good news is that the repercussions will be lessened if you demonstrate preparedness, which will be possible by keeping in mind the things that will be mentioned below. It is important to be proactive to eliminate potential hazards and to protect the structural integrity of your swimming pool.
Turn Off Electricity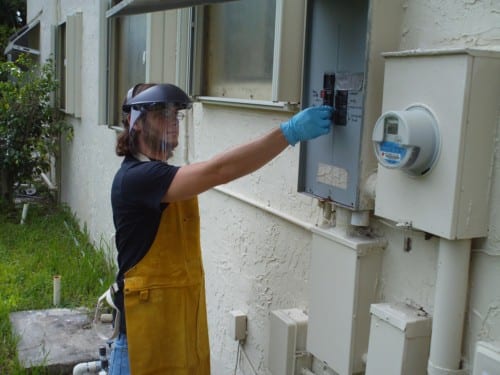 Most swimming pools will have their own electrical supply that can be turned off when a hurricane is brewing. This won't affect the electricity in the other parts of the house. The swimming pool pump and motor are the ones that will be most prone to damages if you do not shut down the electricity. You should remove the motor and have it relocated to a place where you are sure it will be safer. You can also wrap it in plastic or tie it with a rope so that it will stay in place. When the hurricane is over, before turning back the power supply, take the time to perform a quick inspection to make sure that there are no damages that can result in potential hazards.
Do Not Drain the Pool
It may be tempting for some people to drain the water out of the pool before the hurricane. However, this is one thing that you should never do, especially if you have an above ground pool. If the water is drained, the pool will not have the weight that is required in the bottom and sides for it to remain in its place during a strong wind or heavy rain. Even inground pools should not be drained. Chances are, they are equipped with an innovative feature that will prevent overflow. It would be best to lower the water level only at a maximum of two feet, but it should never be completely drained. You just have to make sure that the drains and the skimmers are working properly so that the water won't end up overflowing.
Clean the Surroundings
It will also be best to get rid of anything surrounding the pool that can be detached or blown because of the hurricane. If you have chairs and tables surrounding the swimming pool, take it inside. If there are swimming pool lights that are not permanently installed, you should remove them. The same thing is true in the case of slides and ladders that are not permanently fixed in your swimming pool. You will also have to deflate the floats and keep the toys indoors. Get rid of any loose items that might end up flying around because of the hurricane. It is also advisable to trim trees around the pool or house.
REFERENCES:
https://www.thespruce.com/protect-your-home-before-a-storm-2737029
https://www.sumtercountyfl.gov/750/Protecting-Your-Pool